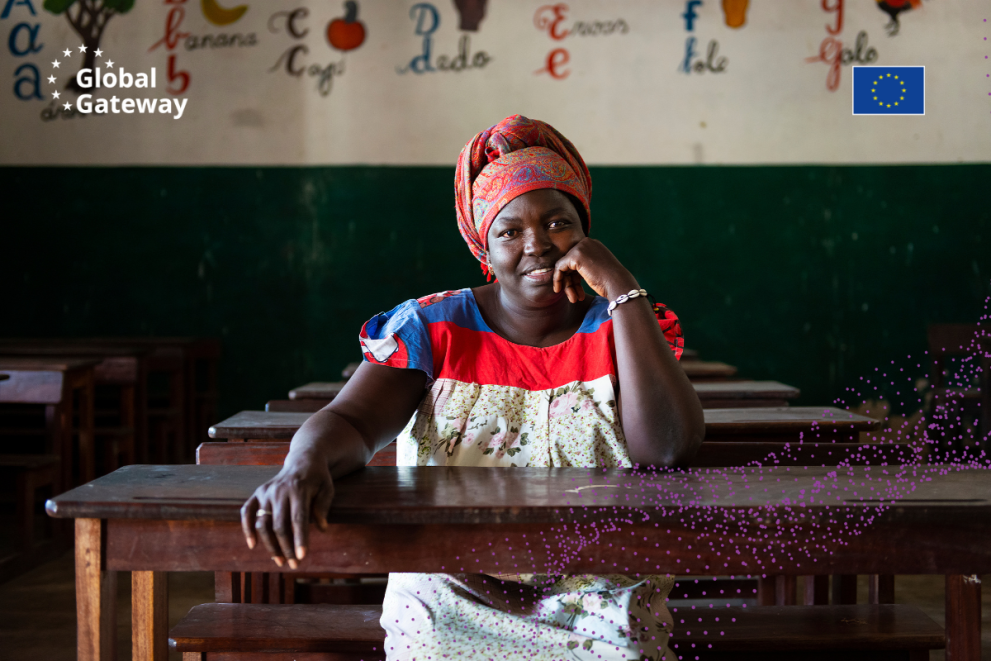 At the Global Gateway Forum in Brussels, Commissioner for International Partnerships Jutta Urpilainen signed a contract worth €46 million taking forward the implementation of a major Global Gateway flagship, the Regional Teachers' Initiative for Africa, which she launched earlier this year in South Africa. With €46 million from the EU, a new Regional Teacher Facility will support the development and implementation of policies, education and professional development for teachers in Africa. The facility will be managed by EU Member States Belgium, France and Finland in a Team Europe approach.
Commissioner for International Partnerships Jutta Urpilainen said: "As a former teacher, I know personally that there is no quality education without trained teachers! I am delighted to sign into effect the Regional Teacher Facility, investing in quality education in Africa under Global Gateway. Supporting the teaching workforce in Africa is an essential element to deliver on the commitments the international community took at the Transforming Education Summit last year."
Complementing national-level education investments by the EU and its Member States, the Regional Teachers' Initiative for Africa will support Sub-Saharan Africa in ensuring that teacher policies and practices contribute to delivering quality education for all. Investing in teachers is a fundamental investment in quality education, quality learning and skills that allow all individuals to achieve their full potential and be empowered to contribute to prosperous, inclusive, greener, safer, and sustainable societies in line with the Sustainable Development Goals.
Alongside the work strands of the regional facility and in line with the Continental Education Strategy for Africa, the initiative will strengthen the evidence base and regional capacities on teacher matters, supporting the Department of Education, Science, Technology, and Innovation (DESTI) of African Union Commission (AUC) and UNESCO. Together, all the components of the Regional Teachers' Initiative for Africa will deliver:
Technical assistance for country action plans to support the development and implementation of policies, education and professional development for teachers
Testing of innovative solutions for teacher training and scaling up existing, proven tools and programmes for enhancing teachers' pedagogical skills in foundational learning, digital and green skills, and gender-responsive pedagogy
Support to crisis-sensitive approaches to teaching and teachers in fragile settings
Research on the status of teacher policies, job satisfaction and well-being and evidence for better teacher governance and professional development
Regional knowledge sharing, advocacy, coordination and capacity building for teacher policy and professional development
The implementation of the Continental Teacher Qualifications Framework and develop a continental digital competency framework for teachers.
The Global Gateway Forum
The Global Gateway Forum brings together an assembly of government representatives from the European Union and across the globe, alongside key stakeholders from the private sector, civil society, thought leaders, financial institutions, and international organisations to promote global investment in infrastructure.
During this landmark occasion, a series of strategic investment announcements and agreements with partner countries are being presented, marking a significant leap towards the implementation of the Global Gateway strategy. These announcements not only underscore the tangible worldwide impact of Global Gateway but also provide a platform for governments and businesses to engage in critical discussions surrounding its priorities.
The Global Gateway Forum highlights a collective commitment to fostering sustainable growth and resilience worldwide through a Team Europe approach.
Global Gateway
Global Gateway represents the European Union's effort reduce the worldwide investment disparity and boost smart, clean and secure connections in digital, energy and transport sectors, and to strengthen health, education and research systems. It provides sustainable investment opportunities to enhance the prosperity and security of our global partners and Europe alike.
The Global Gateway strategy embodies a collaborative approach that brings together the European Union, EU Member States, and European development finance institutions. Together, we aim to mobilize up to €300 billion in public and private investments from 2021 to 2027, creating essential links rather than dependencies, and closing the global investment gap.
Team Europe stands out with a compelling proposition for democratic partner nations, focusing on sustainability across social, environmental, and financial aspects, promoting long-term drivers of growth through a comprehensive 360-degree approach, encompassing both hard and soft infrastructure, and reinforcing the resilience of nations seeking strategic autonomy.
For More Information
EU launches Regional Teachers' Initiative
Details
Publication date

25 October 2023

Author

Location

Brussels